Saturday
|
February 4, 2023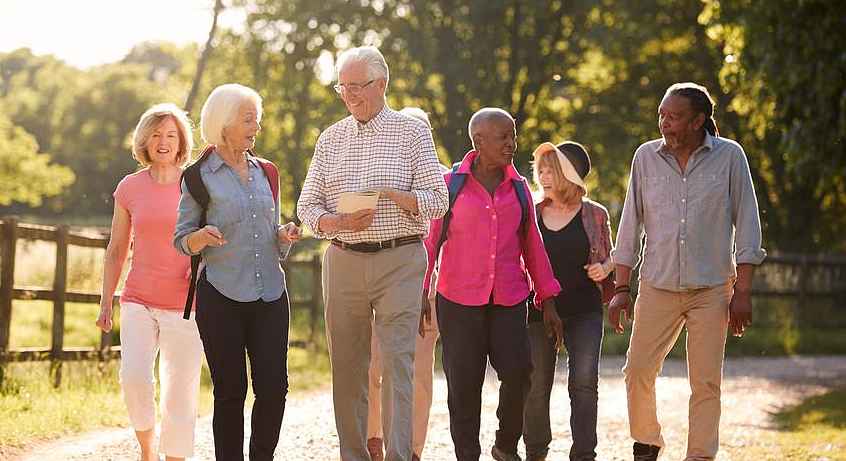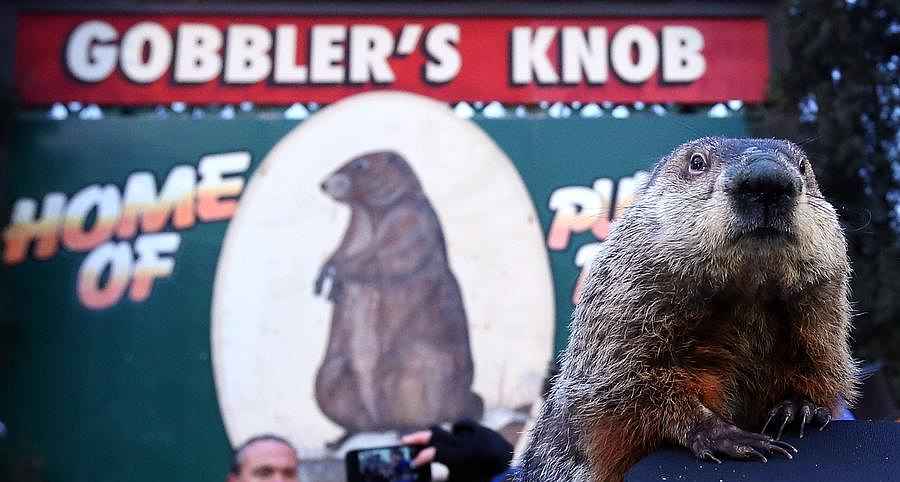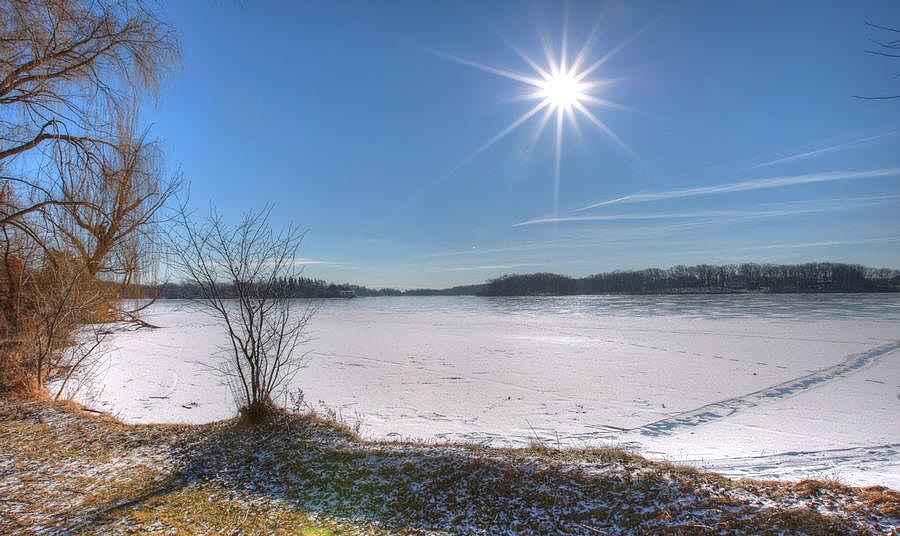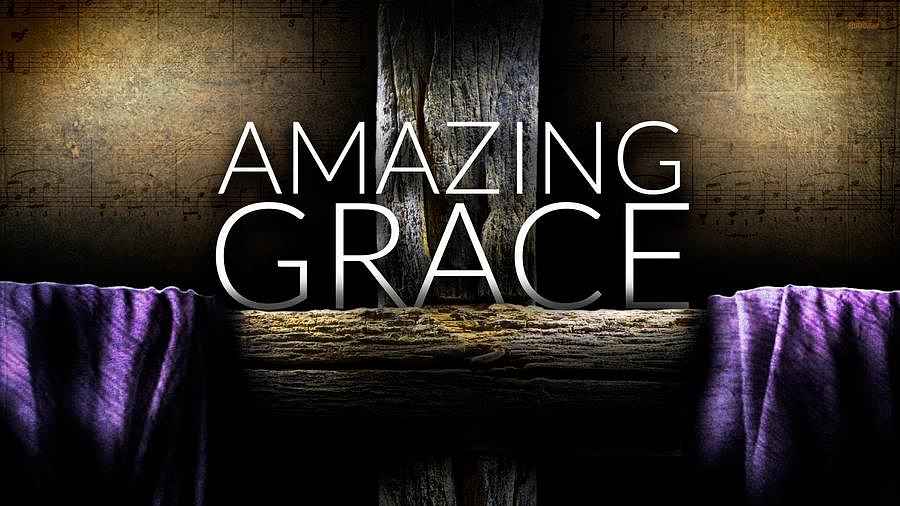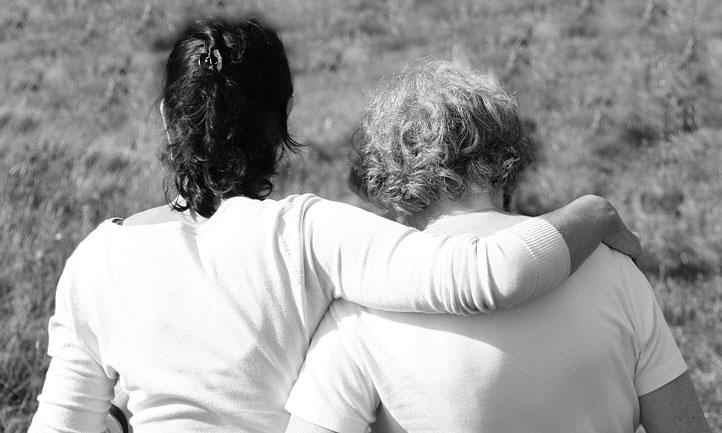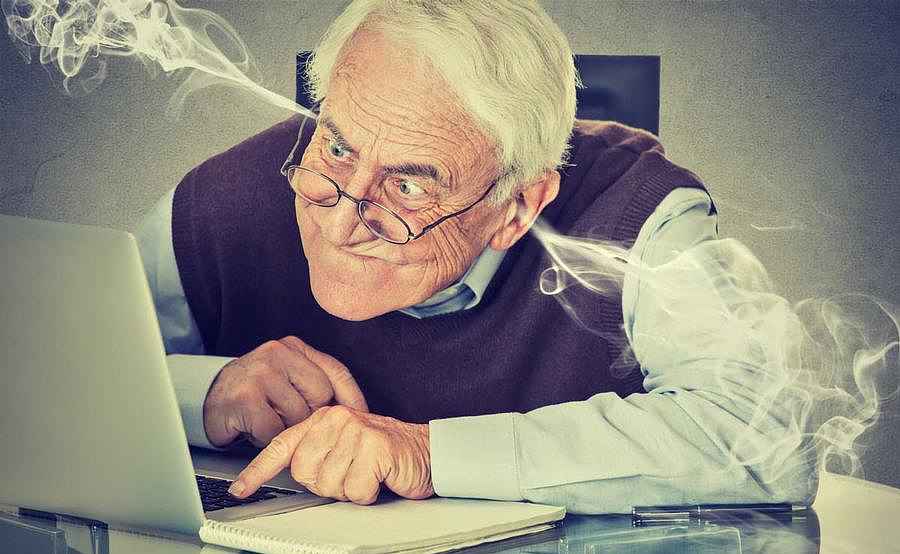 See listing of Recent and Most Popular articles on the Home Page
Our World
Category: Trends / Topics: COVID-19 • Crime, Justice, Punishment • Demographics • Government • History • News • Racism and Inequality • Religion • Research • Science & Technology • Social Issues • Social Movements • Social Unrest, Division • Statistics • Technology • Trends • Values • Voting & Elections
Who Do You Trust? (2021)
by Stu Johnson
Posted: July 23, 2021
After an upward bump in the early days of the COVID-19 pandemic in July 2020, Gallup's annual survey of confidence in American institutions returns to a long downward trend…
Confidence in Religion and Other American Institutions
Links to "Digging Deeper" pages at the bottom of this page were updated August 28, 2021.
The following is an excerpt from my Religion in America report. This section is based on the recent 2021 update of the annnual Gallup survey of confidence in American institutions. While my focus is religion, this section covers all of the institutions included in the Gallup survey.
Gallup began its annual survey of confidence in American institutions in 1973. The question is stated "Now I am going to read you a list of institutions in American society. Please tell me how much confidence you, yourself, have in each one -- a great deal, quite a lot, some, very little, or none?" The score in the charts and referred to as being confident represents those who responded "a great deal" or "quite a lot."

Survey results are released each July, so the 2021 survey is more than a year into the COVID-19 pandemic. The 2020 survey, referred to here for contrast, was released in the early months of the pandemic, which resulted in two-thirds of institutions moving up in confidence, most likely in recognition of the "heroes" facing the first surge of virus in the U.S. On the other hand, the results came shortly after the May 25 killing of George Floyd at the hands of Minneapolis police, with months to go in the run-up to the 2020 Presidential election, so The Police and TV News both hit record lows (though The Police dropped only one rank to number 4). Now more than a year into the pandemic, those bumps have moderated in the direction of the long-term downward trend.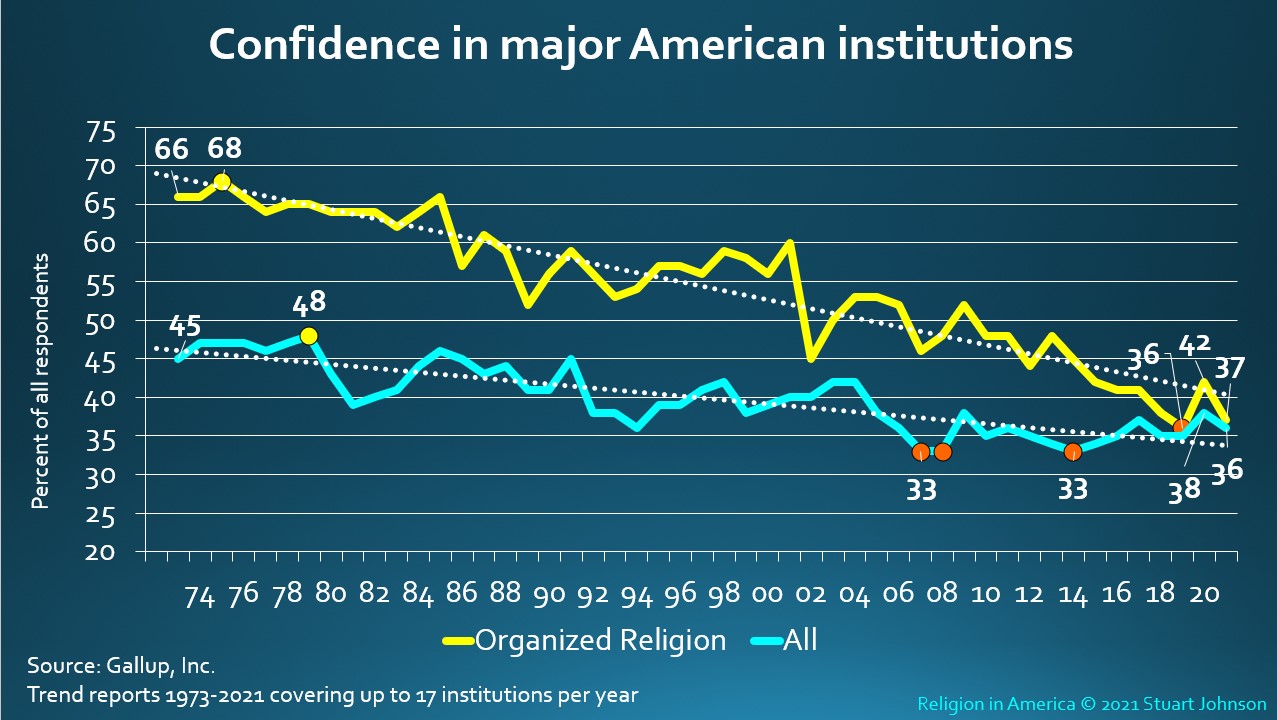 In 1973, the first year Gallup conducted its annual measure of confidence in major institutions, "the church or organized religion" was rated the highest among 15 institutions.

Organized Religion continued to rank first through 1985, then fell below 60%. Among the reasons: Televangelist scandals, child molestation by priests; then a general decline in religiosity continued the downward trend (as scandals in Catholic and Protestant churches continued). Organized Religion dropped 32% from its high of 68% in 1975 to 36% in 2019). In 2020, the survey reflected the early months of COVID with many congregations under lockdown and scrambling to stay connected through various online options, Organized Religion rebounded to 42% in 2020, but settled back to 37% in 2021 even as many congregations were opening up, keeping barely ahead of the low point of 2019.

For all institutions confidence fell 16% from a high of 48% in 1979 to a low of 32% in 2014. There was a noticeable upturn in 2020 across two-thirds of the 15 institutions, most likely attributable to responses to the COVID-19 pandemic, as well as a downturn for Police and TV News, with George Floyd's death occurring shortly before the survey results were released in July.

Last year I stated that I fully expected to see the downward trend continue in future years, which appears to be the case for 2021 . . . but first, let's like to look at 2020 again because of its uniqueness.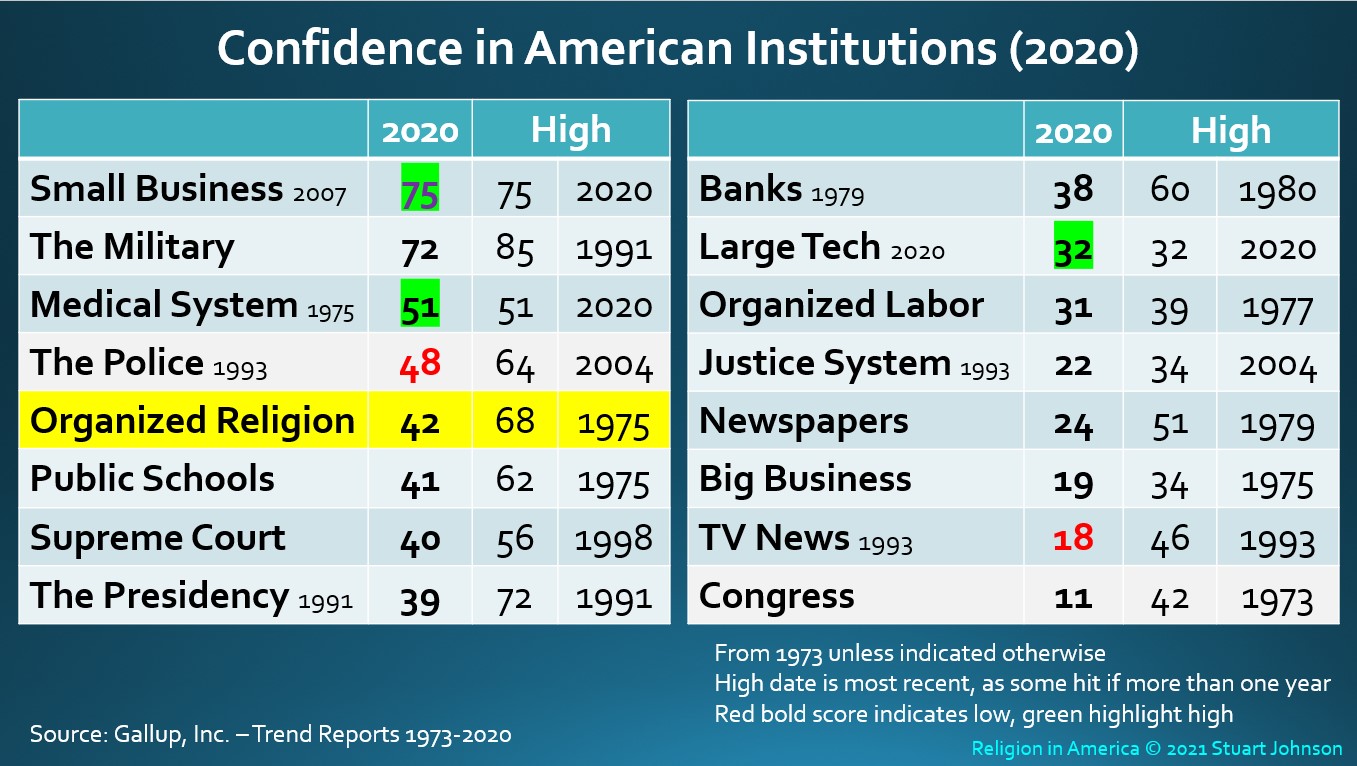 In 2019, Organized Religion ranked 6 among 15 institutions, even though it had fallen further in score than any of the institutions included. In 2020 it regained six points, to 42% confidence, bringing it up to number 5.

In 2020, Large Tech was added to the Gallup survey, bringing the list to 16 institutions. (It has always had 15 or 16, with half of them on the list since 1973). Large Tech includes organizations like Amazon, Facebook, Google, Twitter, all embroiled at the time of the 2020 survey in concerns over privacy, monopoly and content. The introduction of Large Tech at Number 10 pushed the six remaining institutions down one rank each while keeping their order from 2019.

Reflecting the events of 2020, Small Business and the Medical System reached their highest level of confidence, while Police and TV News hit their lowest levels—and were the only two to go down in score. Yet, The Police dropped only one rank to 4 after having been at 3 for at least three years before. Showing the uniqueness of 2020, even as early in the pandemic as the survey was taken, 10 of the 15 continuing institutions saw their scores increase over 2019, while only two went down (The Police and TV News), and three remained the same as 2019 (the Criminal Justice System, TV News and Congress).

While 10 of the 16 institutions have had 50% or more confidence at some point since their inclusion in the survey, in 2020 only 3 had the confidence of 50% or more of those surveyed.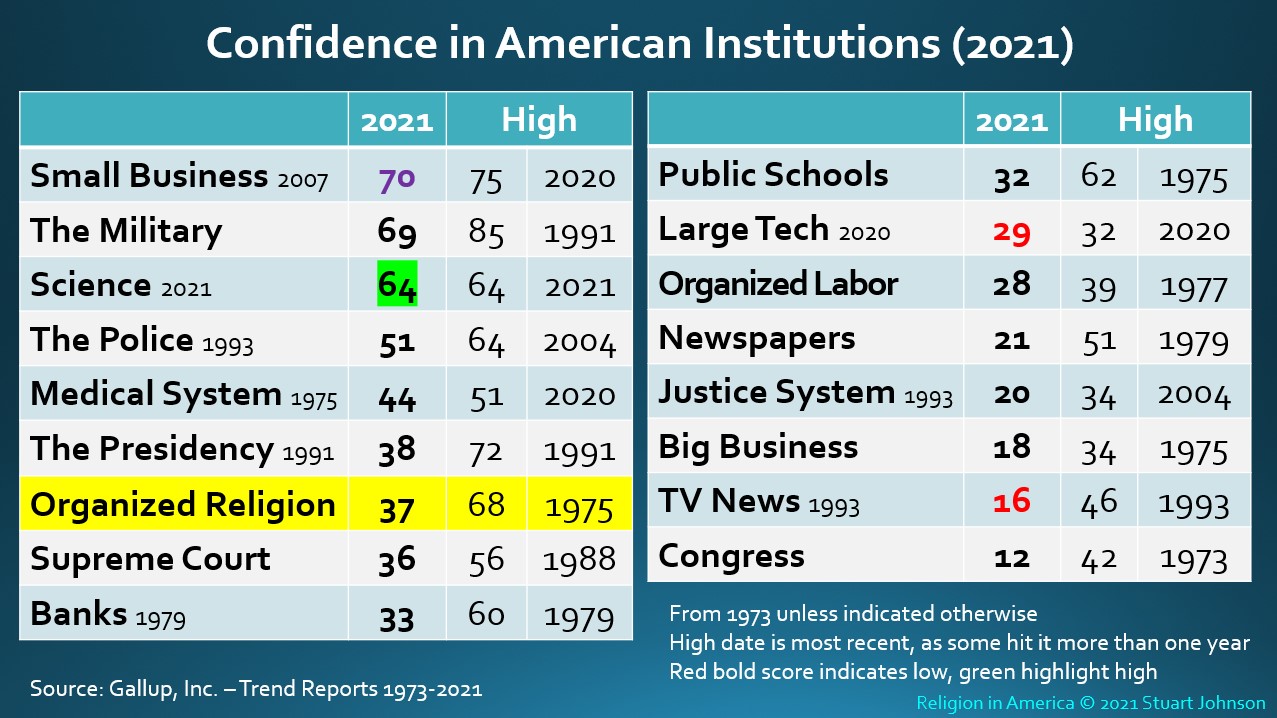 In 2021, Science was added as the 17th institution, taking third place, pushing the rest of the list down at least one place from their 2020 rankings. Whether Science becomes a permanent part of the survey remains to be seen. Some others, like Internet News and Health Maintenance Organizations appeared sporadically and are no longer on the list. Large Tech was much in the news last year when it first appeared on the list. The introduction of Science, then, was not surprising, given the media exposure and partisan disputes over "the science" of COVID (on top of the longer-running disputes about Climate Change).

The danger, as I see it, is that Science enters the list as a kind of political litmus test. There is much more to science than what makes the nightly news or social media, yet the list of institutions has become more politicized over the years. When Gallup started the survey back in 1973 there was more agreement on the importance of key social institutions. A few, but not all, had natural partisan characteristics (The Presidency, Supreme Court, Congress). In addition, public understanding is shaped by a combination of personal experience and the kinds of news sources from which people form their opinions, which are far broader today than in 1973.

Looking at the 2021 results, Small Business and The Military stayed in the top two spots, but each were down in score from 2020. In fact, 12 of the continuing 16 institutions were down in score from the previous survey. (The number down in rank, for both 2020 and 2021 is skewed by the introduction of Big Tech in 2020 and Science in 2021. However, in 2020 with Big Tech at number 10 we saw the bottom six stay in the same order and each go down one rank. In 2021 there was more mixed movement, though introducing a new entry at rank 3 obliviously effects everything below that).

Organized Religion lost most of its 2020 gain—down five points to 37 and two ranks to 7, falling to its lowest rank ever and barely missing a repeat of its low score in 2019. Even without the insertion of Science, Organized Religion was back on the downward trend of institutional confidence.

Despite all the media coverage that might lead you to assume a stampede in the other direction, The Police went up by 3 points to a slim majority of 51% and stayed at number 4, even with the introduction of Science at number 3. Organized Labor moved up 4 points to 28 but fell one rank, while Congress moved up 1 point to 12, also falling one rank.

The Presidency was the only institution to move up in rank, from number 8 to 6, but it lost one point in score, dropping to 38.

Including "Some" confidence in the score would bring a number of the weakening institutions above 50%, but that is only stretching things to reach levels once achieved by "A Great Deal" and "Quite a Lot." An analysis in the Digging Deeper section will show trend charts for individual institutions that makes the distribution by response over time more clear. An update to that page is expected in early August.

Spanning more than 20 points between their high and low scores are ten of the 17 institutions for 2021. Except for TV News, which hit its low in 2021, the others have been lower in another year. All but two (TV News and Congress) have hit highs above 50. The Military has the record high, at 85 points in 1991 and is the only one of the ten over 50 now. Congress is holder of the record low, at 7 in 2014. The following list is sorted by the size of the spread between high and low scores.
The Presidency - 47 points between its high of 72 in 1991 and low of 25 in 2007 - median score: 39 - 38 now
Banks - 39 points between its high of 60 in 1979 and low of 21 in 2012 - median score: 41 - 33 now
Public Schools - 36 points between its high of 62 in 1975 and low of 26 in 2014 - median score: 39 - 32 now
Congress - 35 points between its high of 41 in 1973 and low of 7 in 2014 - median score: 24 - 12 now
The Military- 35 points between it high of 85 in 1991 and low of 50 in 1981 - median score: 66 - 69 now
Religion - 32 points between its high of 68 in 1975 and low of 36 in 2019 - median score: 56 - 37 now
Newspapers - 31 points between its high of 51 in 1979 and low of 20 in 2016 - median score: 33 - 21 now
TV News - 30 points between its high of 46 in 1993 and low of 16 in 2021 - median score: 27 - 16 now
The Supreme Court - 26 points between its high of 56 in 1985 & 1988 and low of 30 in 2014 - median score: 43 - 36 now
The Medical System- 20 points between its high of 51 in 2020 and low of 31 in 2007 - median score: 39 - 44 now
What does the overall decline of confidence say about the future of our society when we have so little trust in our bedrock institutions? What can the Christian church (and other faith communities) do at the individual and local level to restore trust when organized religion itself has fallen so far?

See more details about CONFIDENCE IN MAJOR AMERICAN INSTITUTIONS
Part 1: Trends, Comparison to Medians and Highs, Including "Some", Breakdown of Historic Highs and Lows
Part 2: Trendline of responses for each institution
Part 1 was last updated July 29, 2021, Part 2 was added August 25, 2021.
---
Search all articles by Stu Johnson
Stu Johnson is principal of Stuart Johnson & Associates, a communications consultancy in Wheaton, Illinois. He is publisher and editor of SeniorLifestyle, writes the InfoMatters blog on his own website and contributes articles for SeniorLifestyle.
•
Author bio
(website*)
• E-mail the author
(
moc.setaicossajs@uts
*)
•
Author's
website (personal or primary**)
* For web-based email, you may need to copy and paste the address yourself.
** opens in a new tab or window. Close it to return here.
Posted: July 23, 2021 Accessed 273 times



Go to the list of most recent Our World Articles


Search Our World (You can expand the search to the entire site)


Go to the list of Most Recent and Most Popular Articles across the site (Home Page)